Our Products
Masking & Powder Supplies Limited offer an extensive range of caps, plugs designed to offer protection to male and female threads, exposed studs, tubes and holes up to 127mm diameter. Produced from silicone they will withstand temperatures of up to 315°C and are reusable. In addition to our standard range of caps and plugs, we offer custom rubber shapes and mouldings.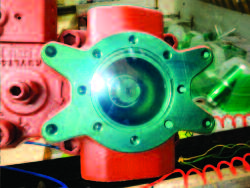 Our tapes, discs and die cuts offer an easy, affordable solution for many masking applications and can be supplied in polyester, polyimide, pvc, glass cloth, lead, aluminium, vinyl and paper. Tape supplied in widths: 3mm to 1000mm wide Discs, washers, rectangles supplied from stock, other shaped die cuts can be supplied from a sketch, DXF, PDF, drawing or part.

Prototype die cuts can be produced without any tooling charge.
Tubes offer a simple and quick means of masking studs and tube ends. ST range of silicone tubes will withstand temperatures of up to 315°C and are reusable. Standard range up to 50mm diameter bore. SMD range made from silicone rubber. Each tube will fit several diameters and their corrugated form reduces friction making them easier to fit and remove. Will fit diameters up to 45mm FSR foam silicone rubber can be used for a variety of masking applications - grooves, slots, recesses or any irregular shaped cavity. Available up to 30mm diameter.